Today, we are pleased to announce the release of our newly redesigned manuscript viewer. The desire for greater ease of use and an overall more pleasant experience lays at the heart of this renovation.
According to CSNTM Executive Director Daniel B. Wallace, "Since we began our work in 2002, a core part of our mission has been to make it possible to view and study New Testament manuscripts from anywhere in the world." Global accessibility remains foundational to our mission and work today. For this vision to be reality, occasional improvement is required to keep our images available in an intuitive and functional way.
Here are a few of the new features and improvements you'll find.
New Presentation
We've worked to make the visual hierarchy more seamless. With our previous system, the manuscript information and thumbnail images were too prominent on a page where the image viewer should be the focal point. Upon selecting a manuscript from the library, the user was met with that document's information. Only after scrolling past this information as well as the collection of thumbnail images, would they find the actual image viewer.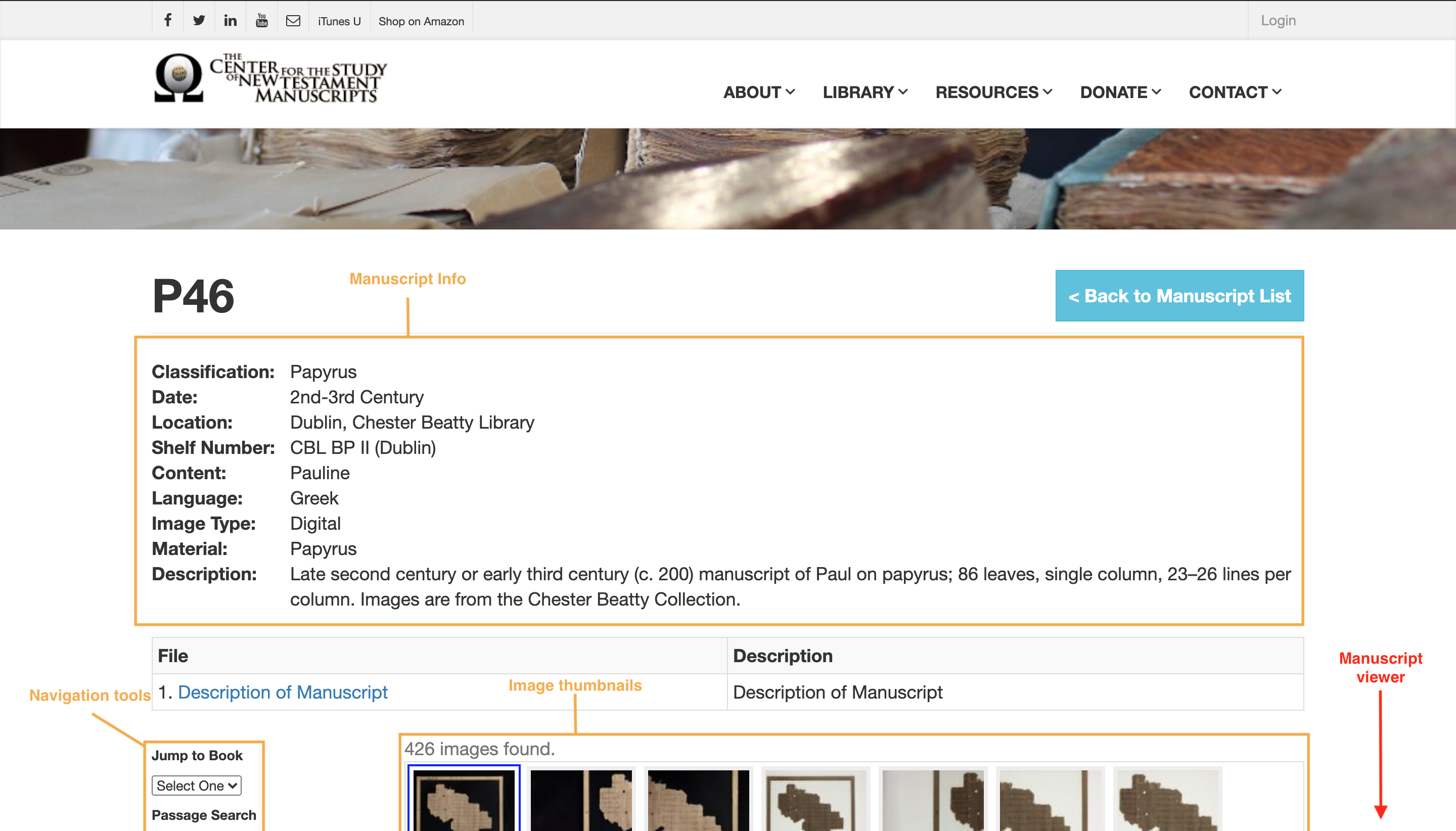 Layout of CSNTM's previous viewer
With our new viewer, the image is the main attraction. Most of the page's space is dedicated to the image being viewed, while the other features have been moved to the periphery where they are still easily accessible. Image thumbnails and navigation tools are now featured in a sidebar, and the manuscript's information can be found in a ribbon atop the page. This means no more scrolling; everything is immediately available.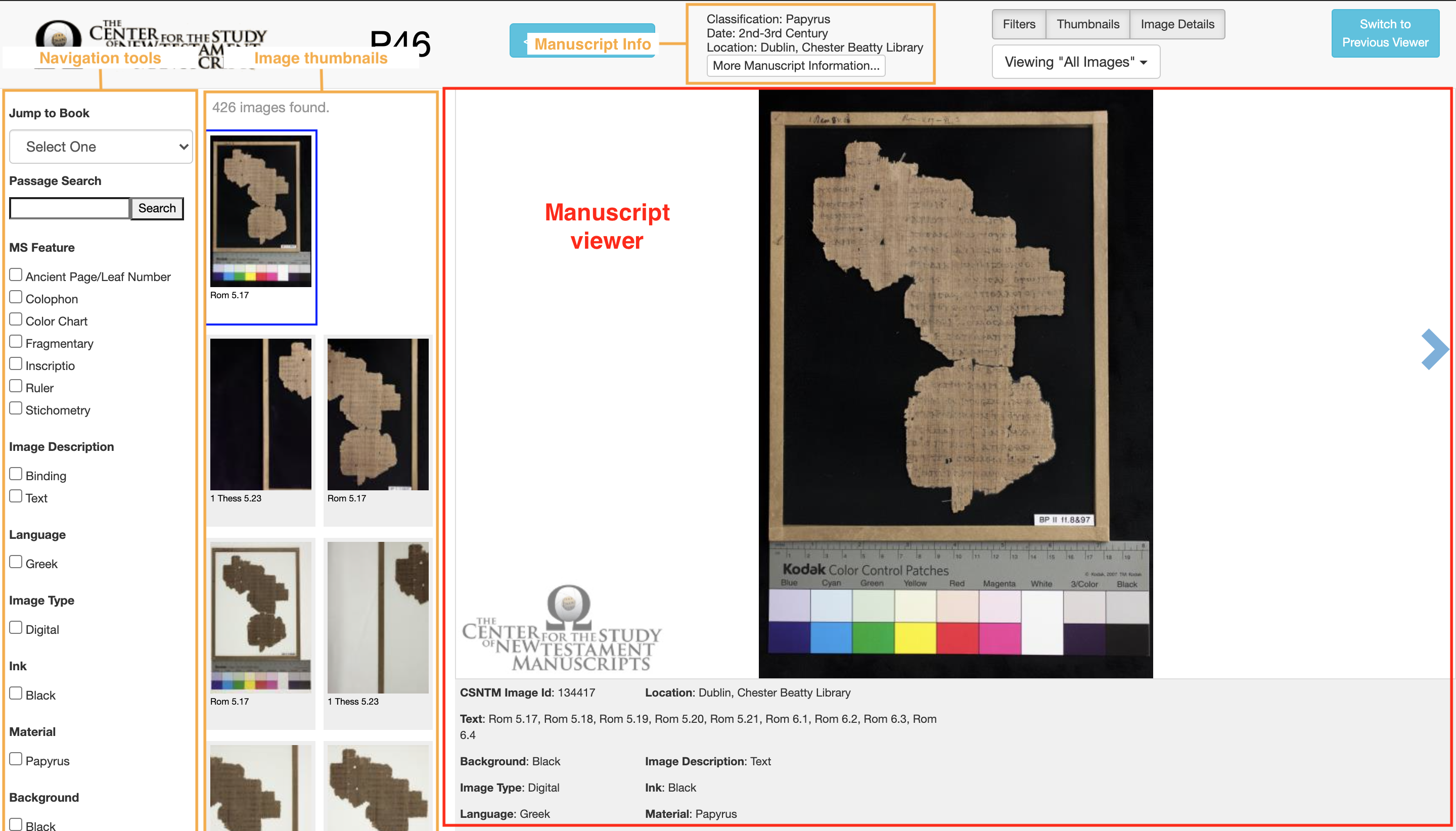 Layout of CSNTM's new viewer
Additionally, we have introduced some helpful new viewing options. The new book view option allows you to read a manuscript as it would appear in its original bound format, with neighboring pages set side-by-side.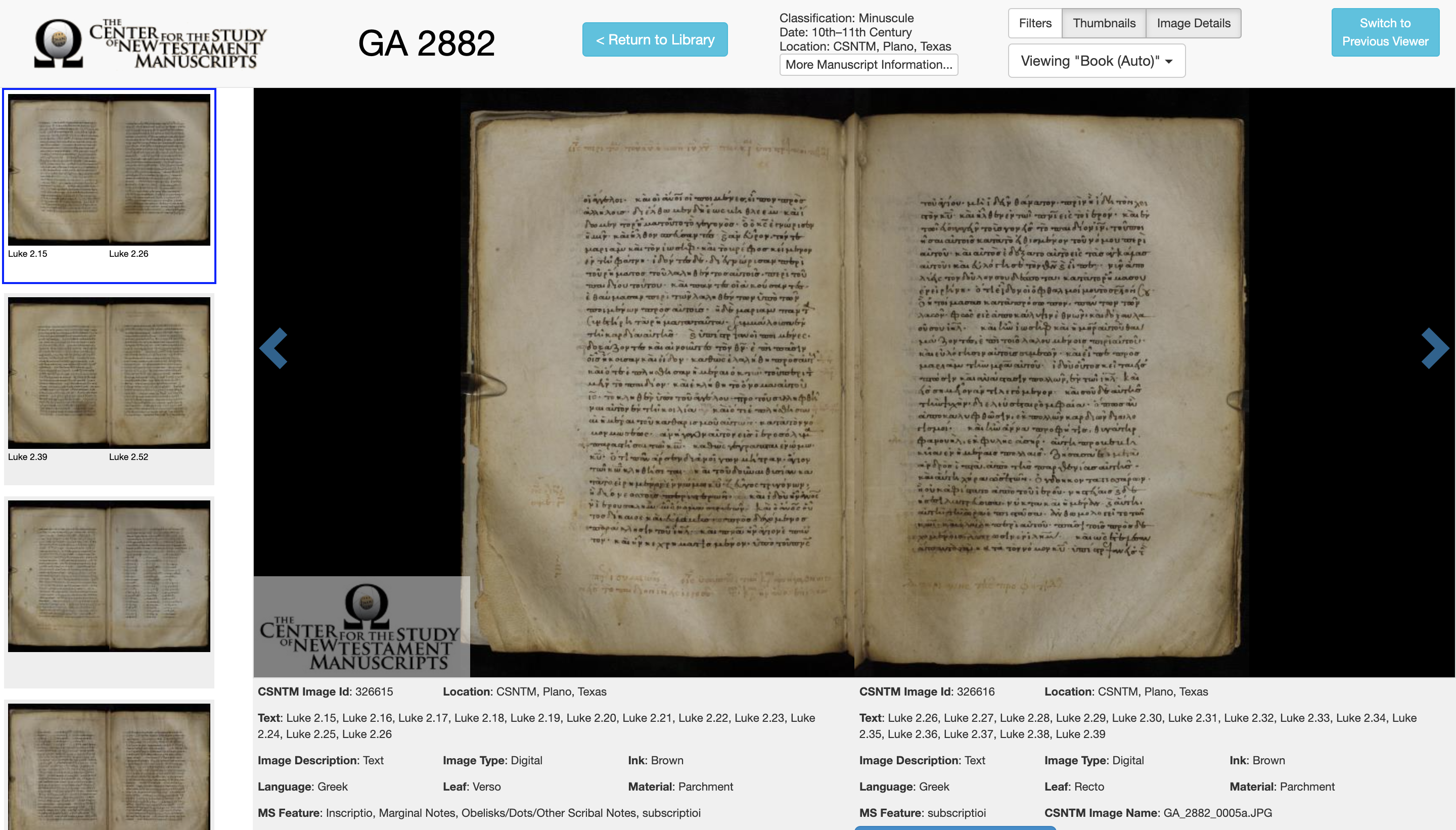 The new book view option
Also, if you are viewing papyri digitized by CSNTM, you can now select to view only images with a black or white background, if you prefer to not navigate through both page after page.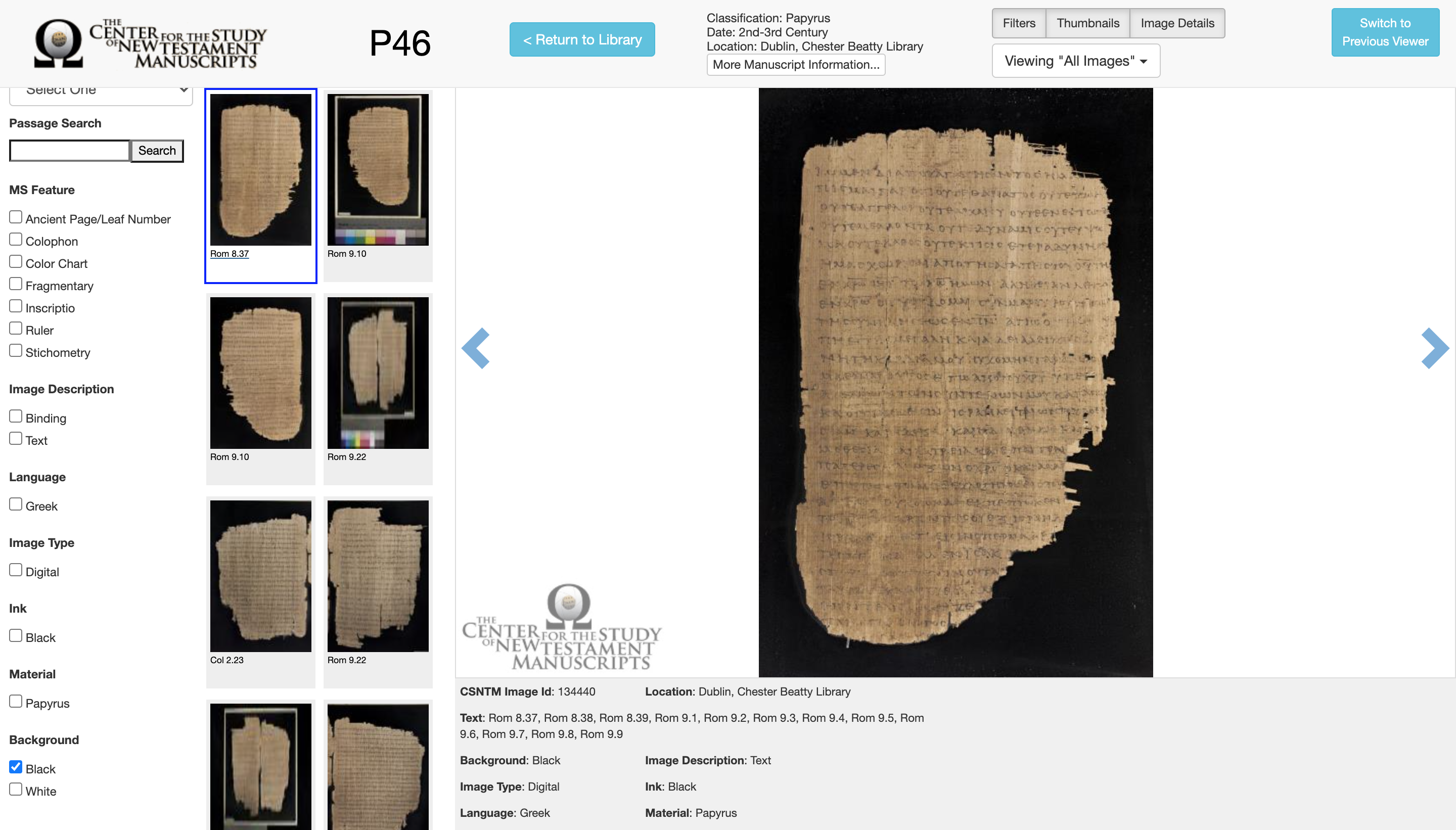 Using the new background color filter
Improved Filter Options
We have added more filters, including several additional manuscript features, background color, and image type. Perhaps the most unique change is the addition of a deselect option on each filter, allowing the user to exclude certain criteria when viewing.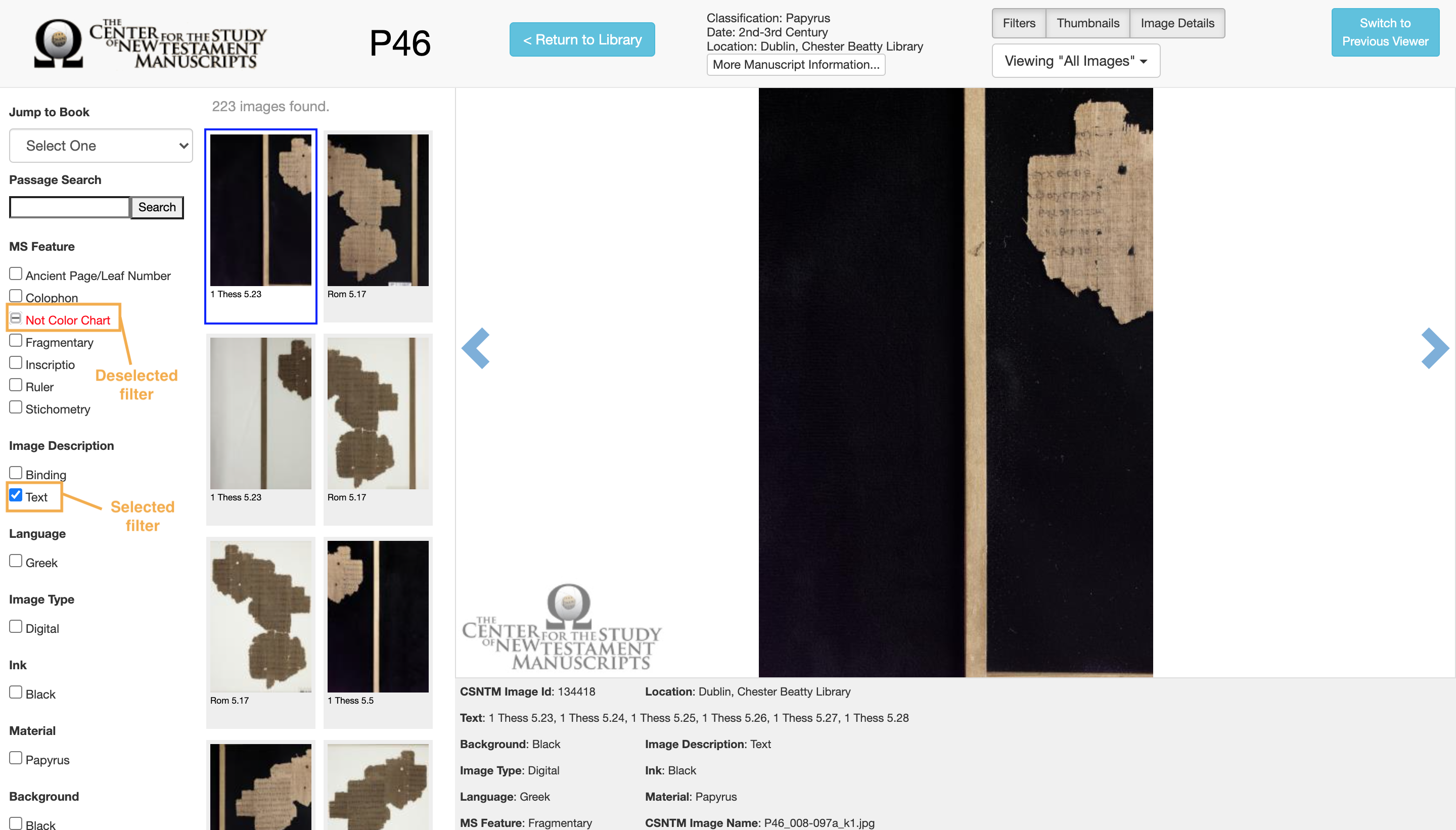 Using new filter options
Back End Improvements
One area of improvement that will be less immediately felt by the user but is valuable nonetheless is the back end of the system. Updates to our input system will allow for improved consistency in our data. Additionally, new changes will allow our staff to respond to user difficulties and issues more quickly.
Acknowledgements
We are proud of this new viewer and are grateful for the hard work of our research team in identifying opportunities for improvement and re-envisioning our viewer. Additionally, several friends graciously gave outside input. Most notably, we would like to give special thanks to David Long, a long-time friend of the Center, for putting this new viewer together.
Enjoy!