The Center for the Study of New Testament Manuscripts (CSNTM) Digital Library contains hundreds of Greek NT manuscripts, each with its own story to tell. In our "From the Library" series, we will feature individual manuscripts from our collection in order to showcase their unique beauty and importance. This is part of CSNTM's mission to make NT manuscripts accessible for everyone.
An Unusual Discovery
Our next feature is an unusual manuscript that CSNTM discovered inside the binding of another manuscript at the National Library of Greece (NLG). One of the Greek New Testament manuscripts in the National Library's collection is a 12th century lectionary, known to scholars as GA Lect 1813. When CSNTM's Executive Director, Dr. Daniel B. Wallace, was examining it for digitization he discovered that leaves from a different manuscript had been glued to the inside cover of the manuscript. Once he took a closer look he discovered that they contained portions from 1 John and Acts.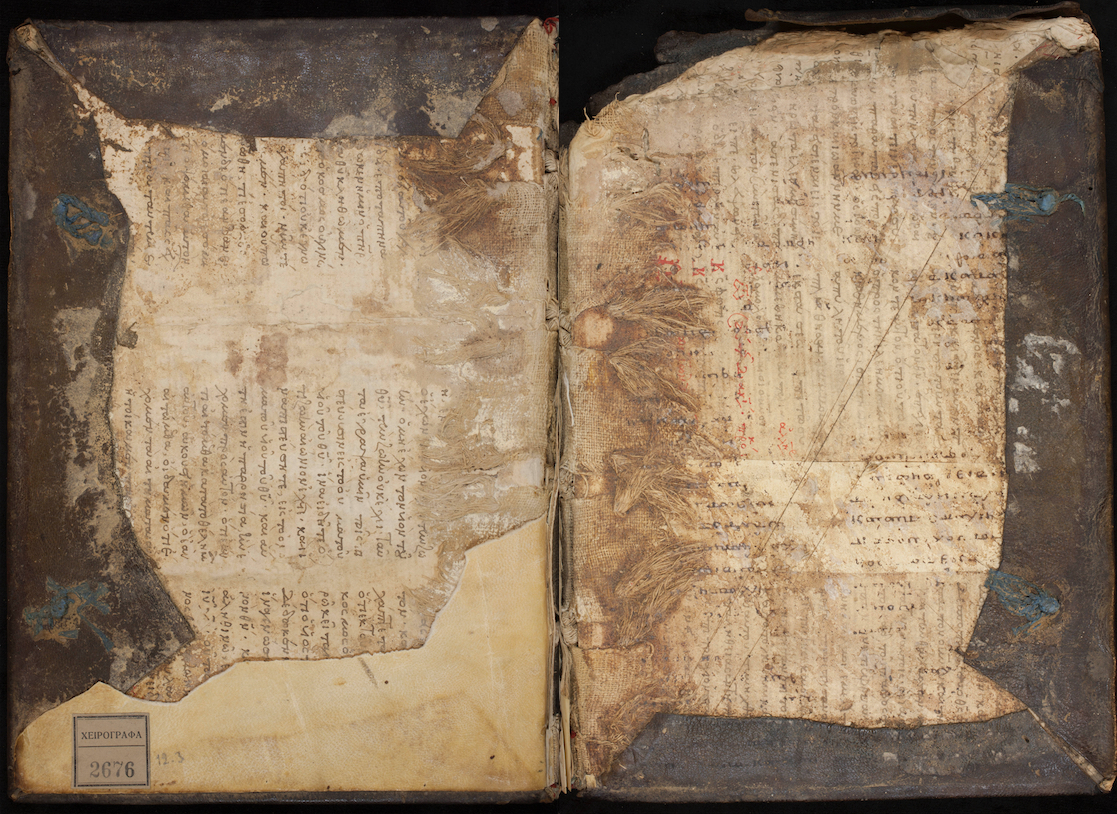 Side-by-side images of the front and back covers of GA 2934
Although a finding like this is somewhat unusual, it is certainly not unprecedented. Those who rebound medieval manuscripts sometimes used other manuscripts, perhaps those that were damaged or for some reason no longer in use, to help preserve and fortify the manuscript at hand. Such a finding may not necessarily revolutionize our knowledge of the New Testament text, but it adds further hard evidence to the sheer number of manuscripts that have existed in history. Our embarrassment of riches just got a little bit richer.
After the manuscript was digitized, experts at the Institute for New Testament Textual Research (INTF) examined the images and determined that it was a bona fide New Testament manuscript, which was previously unknown. Now, these leaves have been officially catalogued and added to the list of Greek New Testament manuscripts as Gregory-Aland 2934. This is one of four manuscripts CSNTM digitized at the NLG that have been recently catalogued. To learn about all four, you can go here.