New manuscripts digitized by the Center for the Study of New Testament Manuscripts (CSNTM) have just been added to our searchable collection. These include 10 newly-discovered manuscripts from the National Library of Greece (NLG) in Athens, the site of our ongoing digitization project for 2015–16. Dr. Daniel B. Wallace made the discoveries during his preparation of each manuscript for digitization. They are listed according to their NLG shelf number, as they have not yet been assigned a Gregory-Aland number. They cannot be confirmed as new discoveries without further investigation (i.e. they could be missing sections from extant New Testament manuscripts). The contents of these discoveries were recently presented at an annual scholarly meeting by CSNTM's Research Manager, Robert D. Marcello.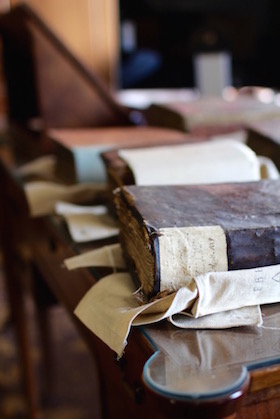 NLG 118: 11th century minuscule; one leaf, bound together with GA 765. Has a beautiful icon of Luke and the text of Luke 1.1–6.
NLG 204: 9th or 10th century palimpsested minuscule; one leaf, part of the upper-text manuscript GA 771. The under-text has a distinct hand, though both the under- and upper-text is from Mark 1 on this leaf.
NLG 2676: 13th or 14th century minuscule; two bifolio leaves at the front and back of GA Lect 1813. Contains a portion of 1 John, which is relatively rare in Apostolos manuscripts from this time period.
NLG 158 (front): 14th century lectionary; two leaves, bound together with GA 765 at the beginning of the codex.
NLG 158 (back): 12th century lectionary; twenty-seven leaves, bound together with GA 765 at the end of the codex. Possibly from the same scribe as GA 765, and combined into a single codex later.
NLG 2711: 12th or 13th century manuscript (could be a minuscule or lectionary); found in the reinforcement strips of GA Lect 1816. Contains text from Luke 1.
NLG 3534: 15th century lectionary; 64 leaves, containing the Gospels, Acts, and Paul.
NLG 4002: 18th century lectionary dated to 1701; 172 leaves, containing several beautiful (yet unfinished!) icons.
NLG 4074: 13th or 14th century lectionary; 196 leaves, containing the Gospels.
NLG 4080: 13th or 14th century lectionary; 154 leaves, containing the Gospels.
We have also added images for 9 manuscripts that are now in our digital library. Many of these are older images from microfilm. However, we want to make sure to make as many available as possible, even if high-resolution digital images are not currently available.
GA 040
GA 045
GA 055
GA 056
GA 059
GA 060
GA 063
GA 069
GA 070
These images have now been added to our growing searchable collection, which gives everyone free access to the best available digital images of New Testament manuscripts.