Since we began our work in 2002, a core part of our mission has been to make it possible to view and study New Testament manuscripts from anywhere in the world. We have worked toward this by traveling around the globe and capturing beautiful digital images of some of the most important extant manuscripts. Today, we are taking another step forward by making it easier than ever for you to access manuscripts. We're launching the new CSNTM.org.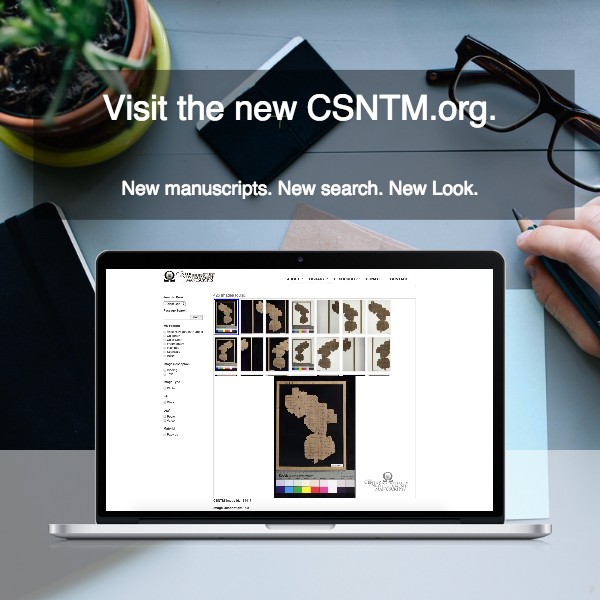 Here are some of the features that you can expect to find now and in the coming weeks:
New Manuscripts – We will be adding 10-20 new manuscripts to our website weekly for the next few months. These will be from the National Library of Greece in Athens (our ongoing project for 2015–16), as well as previously unposted images from hundreds of manuscripts and rare books in our collection.
New Look – We have revamped our entire website to make it both simpler and richer in content. We have new content, which narrates how we go about digitizing and archiving manuscripts. We also explain what goes into our extensive training program that enables our teams to work quickly while capturing high-quality images.
New Viewing Environment – The website is equipped with a new viewer, which makes it easier than ever to navigate manuscripts and view our stunning new images.
New Usability – Our new site is also designed to work perfectly with mobile devices and tablets, enabling you to view manuscripts or to access other resources quickly, whenever you need them.
New Search Features – The website is now outfitted with an extensive search functionality. Searches can be performed at the manuscript level, allowing you to find manuscripts that meet certain criteria (e.g., date, contents, material, location). They can also be performed at the image level, which allows you to find specific features within a manuscript. For instance, we now have a Jump to Book option that allows you to find the beginning of each book that a manuscript contains. Also, one can search tagged manuscripts for verse references. Every place, for example, in which John 1.1 is tagged will automatically populate when the verse is searched.
New Search Database – The search database holds tags for each manuscript and individual image. As our team continues tagging our growing collection, the search function will become more comprehensive each week. But the task is daunting. We want your help for the tagging! If interested, you can reach us via our contact page.
Please share our new site with colleagues and friends, so more and more people can continue to utilize CSNTM's library, which is free for all and free for all time. We sincerely hope that you enjoy using the site. It represents a giant leap forward in accomplishing our mission to bring ancient New Testament manuscripts to a modern world.