By: Stephen Clardy
In June of 2015, our digitization team at the National Library of Greece in Athens found something in a twelfth-century lectionary of the Gospels that immediately grabbed their attention. Pasted to the inside of the document's front and back covers were additional leaves of Greek text. The text was from 1 John and Acts, not the Gospels, and the script seemed to indicate these were taken from slightly later manuscripts, dating to the thirteenth or fourteenth century. We had discovered a previously unknown manuscript!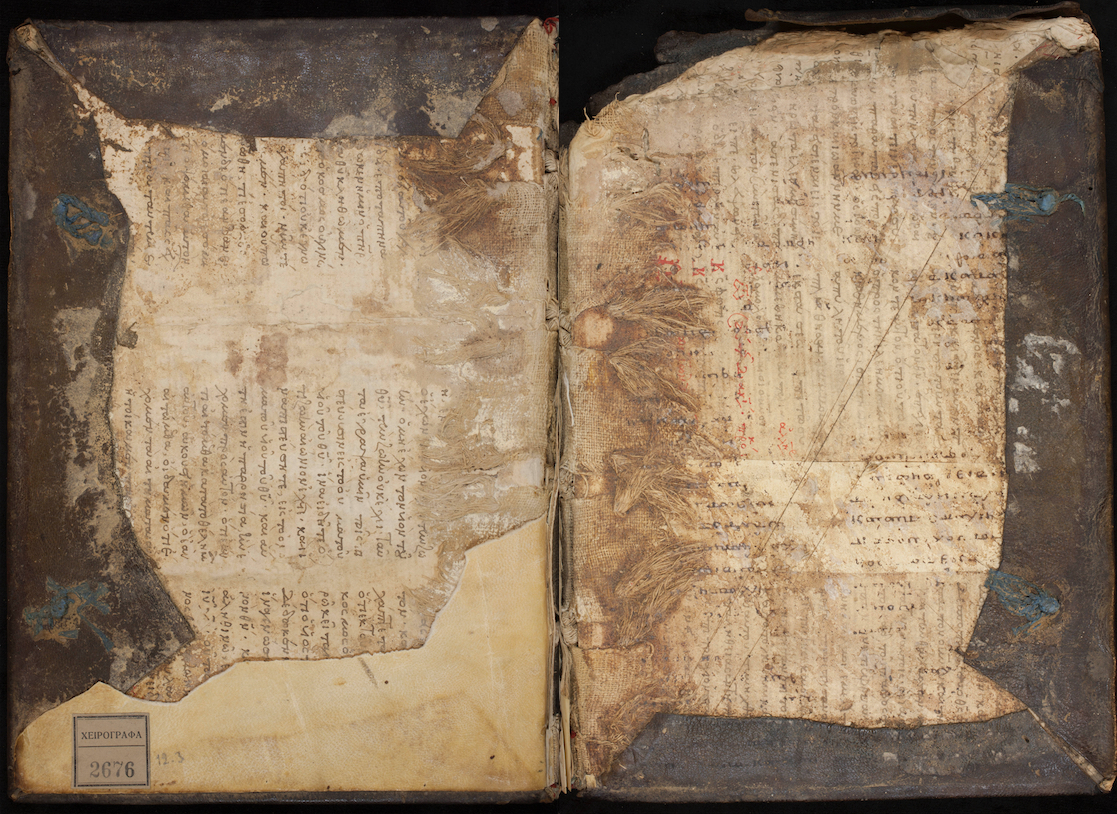 Images from the front and back covers of the new discovery
Over the past 17 years, CSNTM has found over 70 previously uncatalogued manuscripts, more than any other institute or individual in the world. Discoveries like these, however great or small, are tremendously meaningful for New Testament text critics and all of us who are excited to have so many ancient and medieval copies of the scriptures to see and enjoy. Each digitally preserved manuscript and every new find adds another piece to the puzzle, setting up the next generation for even better scholarship and greater discovery.
Just as new discoveries are vital for textual critics, monthly donors are vital to the work of CSNTM. A lot goes on between expeditions. Throughout the year our team studies manuscripts, works on important publications using the images we captured, and plans for new expeditions to preserve additional manuscripts. These endeavors are only possible with a steady flow of recurring financial support. In a very literal sense, regular donations—however great or small—from faithful partners provide us the stability we need to follow through on our work to preserve, study, and share Greek New Testament manuscripts with excellence, and to plan for the future. These donations truly sustain CSNTM and move our mission further.
All this being said, if you are already giving regularly to the Center or have in the past, I want to thank you. It is with the sincerest gratitude that I say your contribution is making a real impact toward the preservation and study of New Testament manuscripts. Thank you!
If you are not already supporting CSNTM regularly, would you consider becoming a monthly partner with us? Any gift helps, and you have the option to give at whatever level your budget allows. Many of our partners give in the amounts of $25, $50, or $100. If you decide to join in our mission by becoming a monthly partner, it only takes a few minutes to start your donation on our website at www.csntm.org/donate.