News Archive
CSNTM at the New York Public Library
12/17/2012
17 December 2012
By: Daniel B Wallace
This summer CSNTM sent a team to the East Coast to digitally preserve Greek New Testament manuscripts at four different sites. This was our first trip to the East Coast to photograph manuscripts. Drew University in Madison, New Jersey, boasts of six such manuscripts; Trinity College, Connecticut, has two; the Museum of Biblical Art in New York City has one. And the New York Public Library, perhaps the greatest city library on earth, has three. I'd like to tell you a bit about this last site.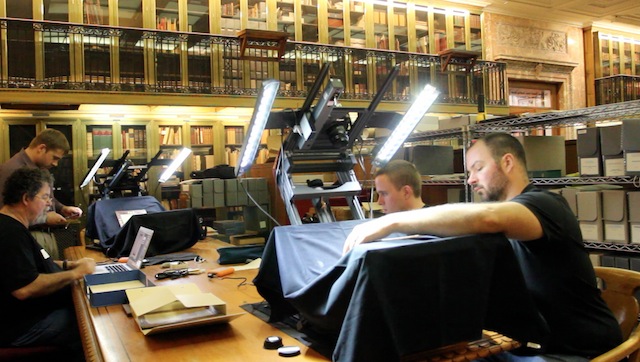 It is a rare thing for city libraries to have Greek New Testament manuscripts. Rare, that is, in America. The Auckland City Library in New Zealand has two, which CSNTM digitized in 2009. And there are several in towns and cities in Greece—even a high school has a couple of them! But in America, I am unaware of any city libraries, except one, that have any. The New York Public Library has over 50 million items in its collection, second only to the Library of Congress for an American public library. And three of these just happen to be Greek New Testament manuscripts.
Under the supervision of curator, Thomas Lannon, we visited the library on Thursday, August 2, to prepare the three manuscripts for photography. This task involves counting leaves, lines, and columns; determining contents; documenting material (papyrus, parchment, or paper), measuring dimensions, and many other minutiae. It usually takes 2–3 hours to prepare one manuscript this way.
On Saturday, we returned to digitize all three documents. We knew it would be difficult to shoot all the manuscripts in one day, so Mr. Lannon graciously opened up the library to us long before the public was allowed in. And he stayed after hours as we completed the work. We had some glitches with our equipment early on, but we worked through them. Altogether, we photographed 600 pages of text. The manuscripts are codex 2421 (NYPL Ms. 125), a thirteenth century minuscule (two leaves) containing portions of John 17 and 18; lectionary 175 (NYPL Ms. 103), a fifteenth century manuscript of select readings from the New Testament used in the Orthodox liturgy; and lectionary 956 (NYPL Ms. 102), another fifteenth century manuscript of New Testament selections. We brought with us two Graz Travellers Conservation Copy Stands (CSNTM may be the only institute in the world with two of these; they are designed in Austria specifically to photograph ancient, rare, and fragile manuscripts), two Canon EOS 1Ds Mark III 21 megapixel cameras, several computers, light panels, hard drives, wedges to hold the manuscripts in place, and all sorts of paraphernalia needed to do the job right.
What a magnificent time we had! And what an incredible environment in which to do our work! We didn't have to worry about air conditioning going out, electricity failing us, or any number of hindrances we typically face when we shoot old documents. Thomas Lannon was extremely helpful to us and was encouraged by our efforts and care of these ancient codices.
Heartfelt gratitude is extended to Mr. Lannon and the NYPL for permitting us to digitally preserve these precious documents for generations to come.
We hope, too, that our efforts will give these manuscripts wider exposure to scholars interested in researching the text of the New Testament.